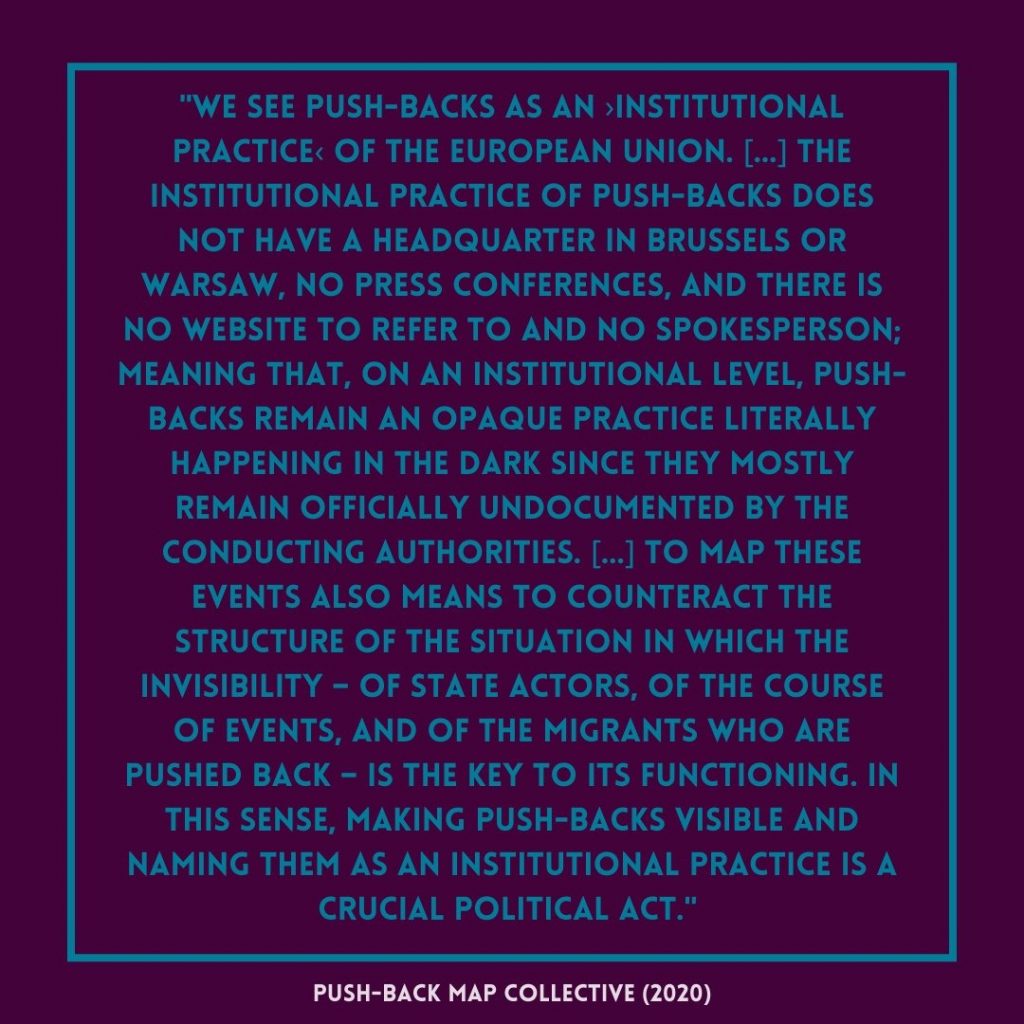 Push-Back Map Collective
The pictures of a research team, among others consisting of ARD-Studio Vienna, ARD-Magazin MONITOR, SPIEGEL and Lighthouse Reports, which gained media attention in the past days, show real footage of the humanitarian and political crimes that have been carried out daily for years at the EU external border on the Balkan route by the Croatian intervention police. The systematic process that can be seen in the footage is repeatedly confirmed to us here in Bihac, Bosnia-Herzegovina, first-hand by People on the Move (PoM).
Satellite images reveal the expansion of some roads that end in remote areas of Croatia right on the "green" border with Bosnia-Herzegovina. Between 2019 and September 2021, seven new roads were built near the border. Pushbacks have been documented mainly in these places, which can be interpreted as an indication of the systematic nature of the deportations.
However, even these searches struggle to capture the scale of the violence. The documented cases only highlight the quality of the perversion and, standing alone, can only provide circumstantial evidence of the processes taking place in the background.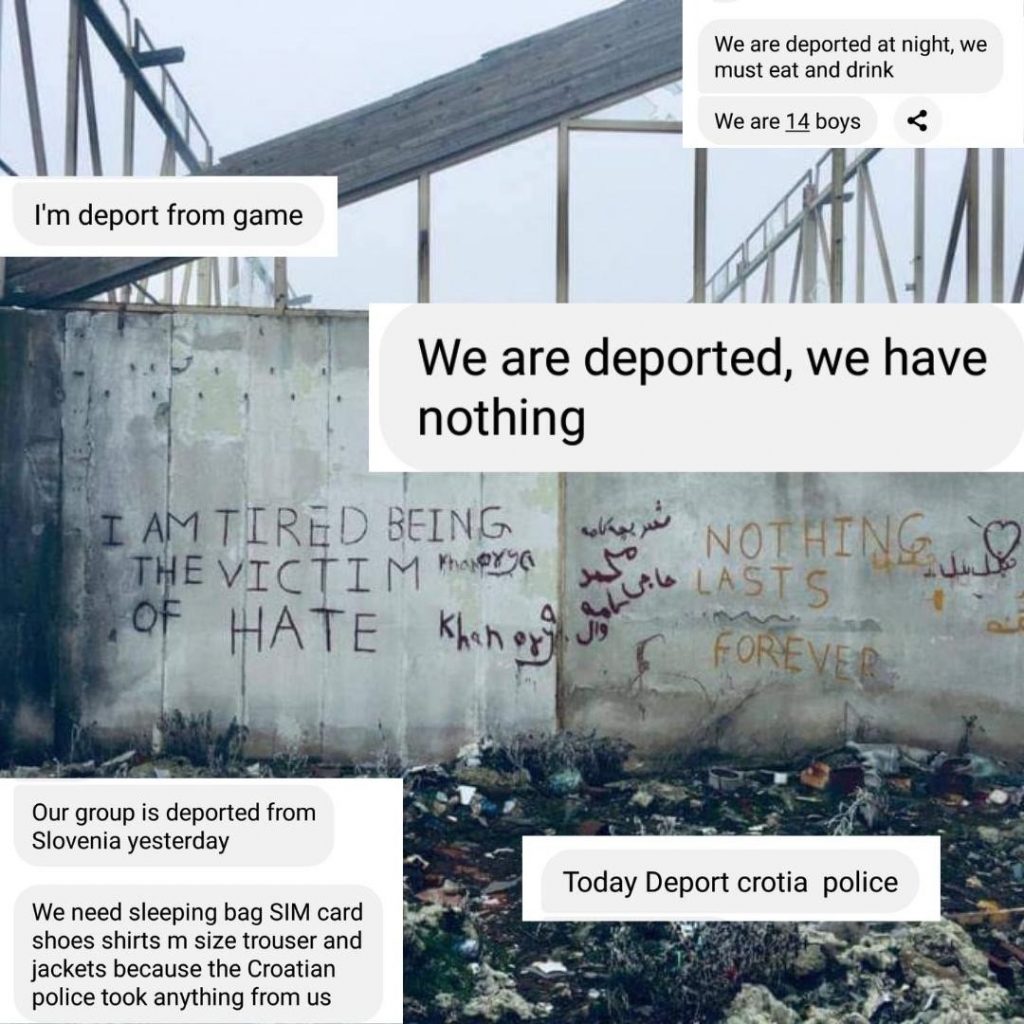 However, what can be seen in the footage has been captured in its quantity by organizations in recent years: Along the Balkan route, the activist network "Border Violence Monitoring Network" documented 892 group pushbacks with 12,654 deportations since 2017 to 2020, while the "Danish Refugee Council" documented almost 16,000 illegal rejections in Croatia for 2020 alone, although a large number of unreported cases must be assumed for both surveys. In reality, this means that a large proportion of PoM often face years of multiple rejections and people have to be stuck in inhumane conditions for a long time. One out of four deportations is related to systematic violence, in half of the cases necessary personal belongings, such as glasses, papers, cell phones, shoes, clothes and money were taken or destroyed to make the way more difficult for the people.
The Border Violence Monitoring Network's August 2021 report documented no use of force against PoM from Afghanistan in only 7% of pushback cases.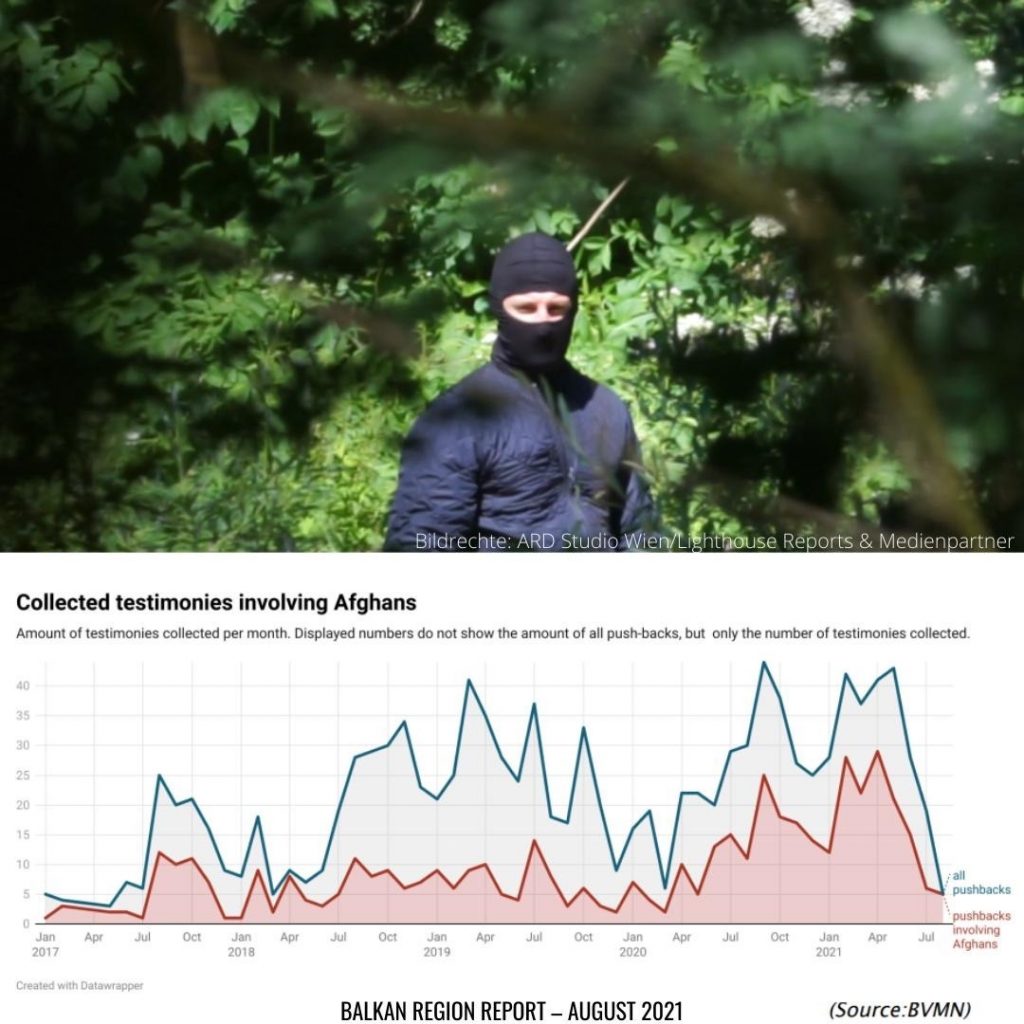 People were punched or kicked in 77% of cases, and police stole from them in 61% of cases. 26% had to disrobe and firearms were used compared to 15%. This happens both at the borders and in the interior of the country.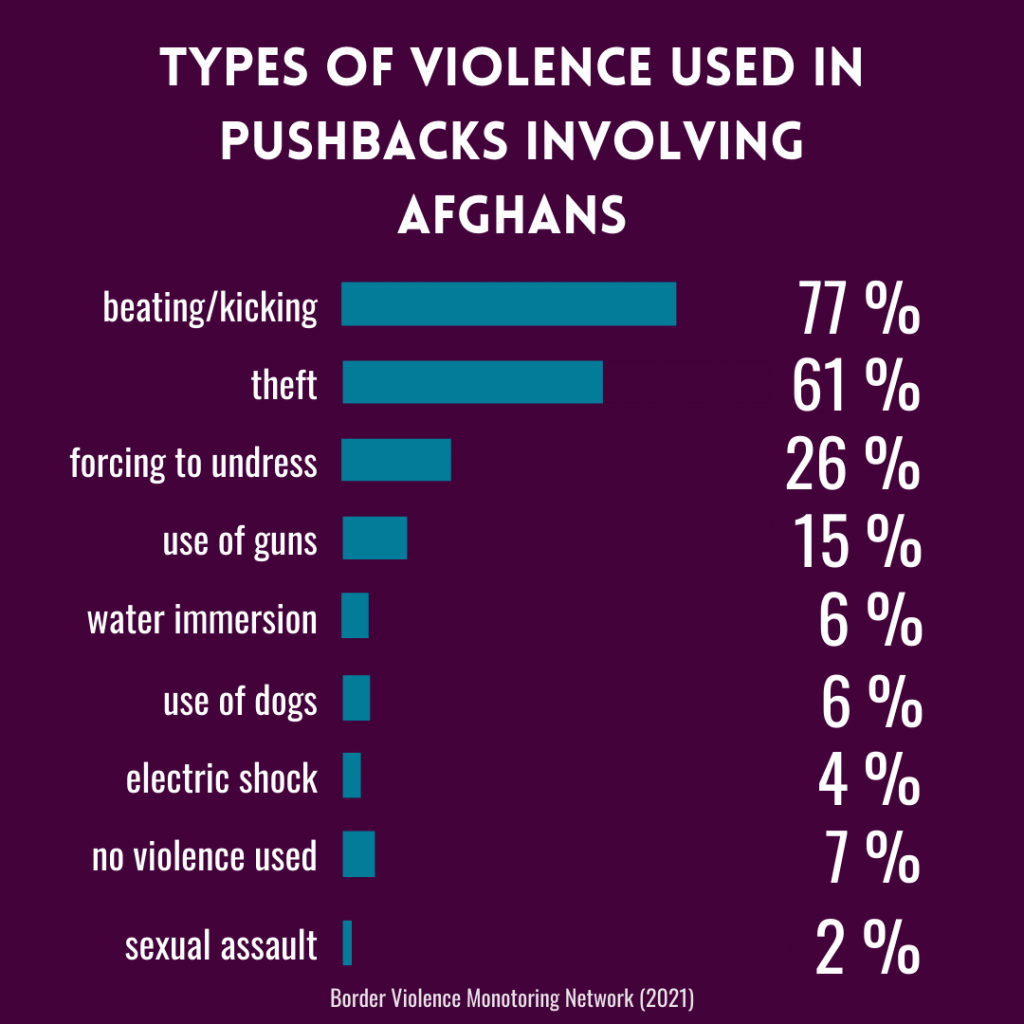 We even receive daily reports of pushbacks from Slovenia, Austria and Italy – so-called (also illegal) chain pushbacks: people are driven back in police cars, handed over at the border to the police of the neighboring country, and thus deported to behind the Croatian-Bosnian external border.
Any form of pushbacks constitutes a wanton violation of the Geneva Refugee Convention, international law, as well as applicable EU law, as no case-by-case assessment is carried out and the right to apply for asylum is denied. "Pushbacks are simply illegal," states Gillian Triggs, UN Deputy High Commissioner for Refugees.
The political motives of the crimes are complex and can be seen on several dimensions.
Since 2015, the Balkan route has been a state-controlled humanitarian escape route that at this point passes through the states of Macedonia, Serbia, Bosnia, Croatia, Slovenia, and Italy before most PoM reach their destination country.
Croatia has the role of a transit country, as hardly any people have the interest to stay there. Croatia alone should thus not see a major problem in migration, as long-term consequences would be largely absent compared to other countries. On the other hand, however, Croatia's border with Serbia and Bosnia and Herzegovina forms the longest external land border of the European Union from a political perspective. In addition, Croatia is economically interested in joining the Schengen area and is in the process of accession. In this process, certain criteria in the area of external border management must be taken into account, the fulfillment of which was awarded to the country by the EU Commission in 2019.
These Croatian border operations are financed from the German side partly through the Schengen Internal Security Fund (ISF) and from the entire EU from 2017 to 2021 through the Asylum Migration and International Fund (AMIF). In addition, there are requirements plans for frontline operations on the Croatian-Bosnian border until 2027. Germany alone has sent thermal imaging cameras and cars worth several million euros to the Croatian police since 2015 under the pretext of "border protection." In total, the illegal border operations were financed by the EU with more than 100 million euros.
Croatia is acting as an executive body in the sense of the EU, which for years has tacitly accepted and thus supported the violent policy of deterrence. At the moment, the Croatian Ministry of Interior is being held responsible as a scapegoat by the EU, which itself blames individual police officers, while the central role of the other EU member states is neglected. In the media it was said that the EU trusts a Croatian team of experts to investigate the incidents, although it was to be expected that such a team would hardly be able to grasp a problem whose origin does not lie in Croatia. In addition, independent inspections were announced so that authorities and officials could be prepared.
As a result of the documentations, only three police officers were suspended from their duties, and Croatian Interior Minister Božinović spoke of "unacceptable behavior of individual police officers" in order to deny the systematic use of violence, although it is inevitably recognizable through many searches. Croatian officials commented on this and stressed that the order to use force came from "the very top," i.e., from the Interior Minister himself.
The mutual blame on the part of the EU, the Croatian Ministry of the Interior as well as the individuals negligently disregard the extent of the exercise of violence, which takes place in the sense of the European border policy. However, the inhumane situation can and will only change if not only all those involved are held accountable, but also if the premises of this policy itself become the center of the outcry.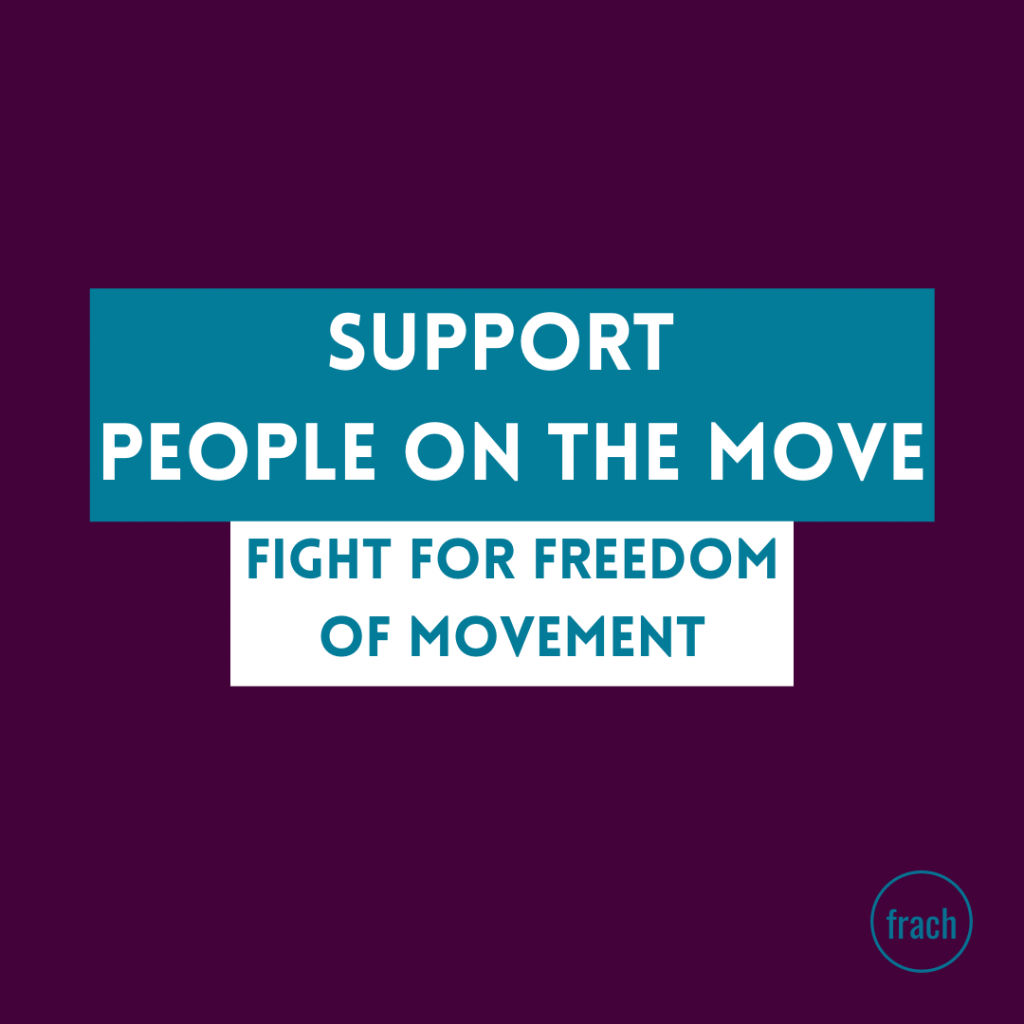 Reference List
Amnesty International. (2020). EU: Inquiry into European complicity in Croatian border violence against migrants and refugees "significant." [online] Available at: https://www.amnesty.org/en/latest/press-release/2020/11/eu-inquiry-into-european-complicity-in-croatian-border-violence-against-migrants-and-refugees-significant/ [Accessed 11 Oct. 2021].
Antwort der Bundesregierung auf die Kleine Anfrage der Abgeordneten Luise Amtsberg, Dr. Irene Mihalic, Filiz Polat, weiterer Abgeordneter und der Fraktion BÜNDNIS 90/DIE GRÜNEN -Drucksache 19/27094 – Pushback-Vorwürfe gegen Frontex und die Rolle der deutschen Einsatzkräfte. (2021).
Border Violence Monitoring Network. (2021). Balkan Region Report – August 2021 – Border Violence Monitoring Network. [online] Available at: https://www.borderviolence.eu/balkan-region-report-august-2021/ [Accessed 11 Oct. 2021].
Buckel, S., Graf, L., Kopp, J., Löw, N. and Pichl, M. (2021). Kämpfe um Mirgationspolitik seit 2015.
Danish Refugee Council. (2021). Border Monitoring Factsheet August 2021. [online] Available at: https://drc.ngo/media/g1hh44vs/2021_08_drc-bih_border-monitoring-factsheet.pdf [Accessed 11 Oct. 2021].
Deutschlandfunk. (2021). Illegale Abschiebungen an der EU-Grenze – Medien dokumentieren gewaltsame Pushbacks in Kroatien. [online] Available at: https://www.deutschlandfunk.de/illegale-abschiebungen-an-der-eu-grenze-medien.2897.de.html?dram:article_id=503898 [Accessed 11 Oct. 2021].
IMHOFF, G. (2019). Kroatien erfüllt alle Bedingungen für Beitritt zum Schengen-Raum. [online] Deutschland – European Commission. Available at: https://ec.europa.eu/germany/news/20191022-kroatien_de [Accessed 11 Oct. 2021].
Kroatiens Innenminister Davor Božinović gibt Misshandlungen von Flüchtlingen durch Polizisten zu. (2021). Der Spiegel. [online] 8 Oct. Available at: https://www.spiegel.de/ausland/kroatien-innenminister-davor-bozinovic-gibt-misshandlungen-von-fluechtlingen-zu-a-8d22592d-0ce3-44b9-8b71-c94e62f08c14 [Accessed 11 Oct. 2021].
Schweizer Radio und Fernsehen (SRF). (2021). Pushbacks an EU-Grenze – Video-Beweis: Kroatische Polizisten prügeln Migranten aus der EU. [online] Available at: https://www.srf.ch/news/international/pushbacks-an-eu-grenze-video-beweis-kroatische-polizisten-pruegeln-migranten-aus-der-eu [Accessed 11 Oct. 2021].
tagesschau.de (2021). Bosnisch-kroatische Grenze: Maskierte prügeln Migranten aus der EU. [online] tagesschau.de. Available at: https://www.tagesschau.de/ausland/europa/pushbacks-gewalt-bosnien-kroatien-101.html [Accessed 11 Oct. 2021].